We are proud to announce that the collaboration between Budapest Cup Regatta and the Hungarian Down Foundation will continue for the 9th consecutive year.
Not only you can help us support the Down Syndrome Foundation House and its habitants by buying the technical T-SHIRT below for only 14 EUR but also you can raise awareness whenever you are using this awesome T-shirt to EQUALITY and TEAMWORK.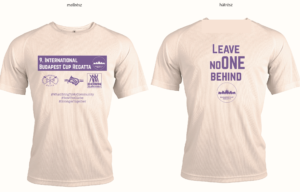 Show your support on the ERGO RACE, that will take place during the Budapest Cup Regatta and also by buying the SHIRT (white shirt with VIOLET writing on it)
Our motto is: Leave noONE behind.
Please place your pre-orders till Friday to info@budapestcupregatta.com
We have sizes available: S,M,L,XL, XXL