The main organizer, Danubius Rowing Club has been cooperating with the Hungarian Down Foundation, that helps families with Down syndrome people with counselling, activities, and all sorts of support, for a decade now. You may as well support the foundation by purchasing this charity T-shirt.
In the framework of the cooperation we are aiming to provide racing opportunities for athletes with down syndrome, hence we launched a race last year that we continue to do this year as well: a 250m ergo race where 10 olympians from different sports will form teams with 10 athletes from Down Foundation and will race together.
For people with Down syndrome, the most important is to be accepted by the society, to receive love and be treated as equal members of the society. By bringing alive the ergo sprint race and  the special  T-shirts we try to raise awareness to the importance of integrated sport activities, acceptance and love.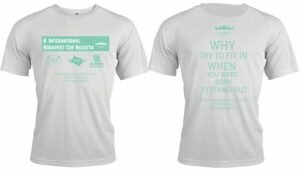 Down Foundation charity T-shirt
price: 13 EUR, S-XL sizes
How to preorder?
You need to preorder and then get your merch at the rowingshop.eu tent at the regatta.
Send an email to info@budapestcupregatta.com with:
Email subject: Charity t-shirt order
Quantity
Size
Thank you for you support!