Back in the past rowers wear a short and a tank, those have become later the unisuit. But Hungarian rowers could dress up such comfortably only from the 20th century. At the very beginning of the sport the rules were very strict. Short sleeves or legs were not allowed at all outside of the changing room. According to the regulation of the first club in Budapest from 1861: "During the training one must wear the uniform of the club, which means red shirt, blue navy suit and brown boater."
Boat's racing in 1864 (Source: OSZK)
Later the rules have become a little bit more permissive. Shorts and tanks were allowed in the boat and on the banks, but inside the club's house one could show up only in the uniform: suit, shirt and long trousers.
The rowing dress itself meant a white tank with the coat of arms of the association.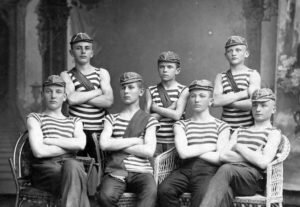 The young members of the Szeged Rowing Club, 1910 (Source: Fortepan)
The Neptun Rowing club was quite strait in the question of outfit:
"That member who does not wear the uniform or dress up obscene, can be imposed a fine." (1928)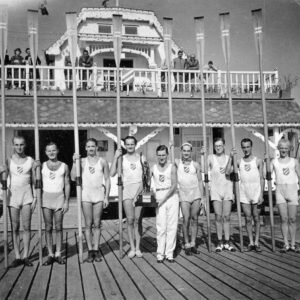 Rowers in 1942 (Source: Fortepan)
Another club regulation from 1931:
In inhabited regions the members must wear long (black or dark blue) trousers and jacket or sweater. On the Danube in the centre of Budapest they must wear the rowing shirt. In uninhabited regions the cox can let the rowers to take off their shirts. If there are ladies in the boat, the shirt cannot be taken off.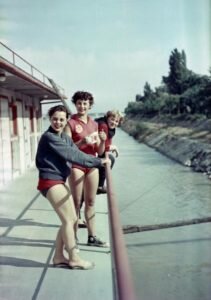 Girls on the terrace of the Wesselényi-boathouse in 1955 (Source: Fortepan)
Nowadays the pieces of rowing clothes are comfortable and practical. However, the FISA still has a strict rule about dressing. The team must wear the same type and colour of headwear, which means for example all black headbands or all white cups. But don't mix'em!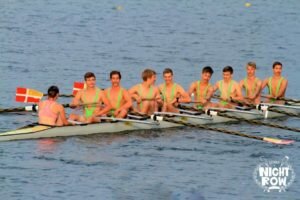 Rowers wearing 'Borat-suit' on the Night Row in Vienna (Source: Facebook)
by Zita Huszthy